Other Dive Sites in the Southern Red Sea
Other dive sites in the Southern Egyptian Red Sea include Rocky Island and Zabargad island, southeast of Ras Banas, St. John's caves, Wadi Gemal, and Ras Shona. Some of these sites are reachable by day boats from Marsa Alam.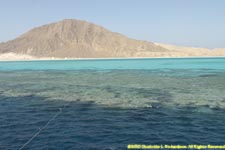 These sites have walls, tunnels, swim-throughs, and sea grass beds.
You may find unusual animals in the seagrass beds, including dugongs.
Back to Red Sea Photo Gallery. Back to home page.
©2011 Mermaid Underwater Photographic. All Rights Reserved.
Contact us at mermaid@underwater.org.
Last modified 28 February 2011