Roatan 2019 diving Photo Gallery
Before the 2019 ARRL DX SSB contest we did some diving on the north side of Roatan.
Wide angle:
The staghorn and elkhorn corals are starting to make a comeback.
Lionfish hunting:
In an effort to control the spread of the invasive Indo-Pacific lionfish, divers are trained to hunt them. Lionfish are actually quite tasty.
Molluscs:
Atantic brief squid, Lolliguncula brevis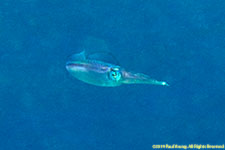 queen conch, Strombus gigas
Cerithium sp.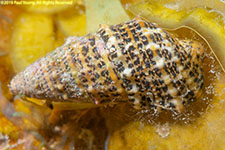 stocky certith, Cerithium cf. litteratum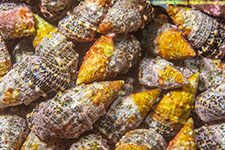 [unidentified]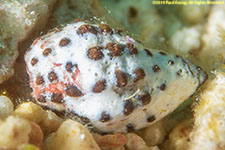 flamingo tongue, Cyphoma gibbosum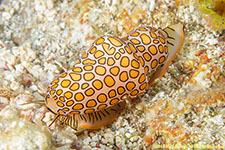 Nudibranchs:
lettuce sea slug, Elysia crispata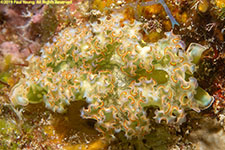 paintecd elysia, Elysia picta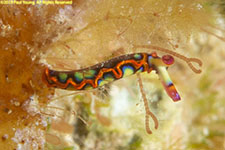 saddleback sea slug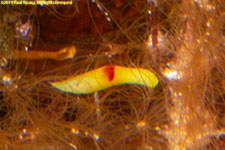 Crustaceans:
Caribbean spiny lobster, Panulirus argus
spotted spiny lobster, Panulirus guttatus
reef mantis, Lysiosquilla glabriuscula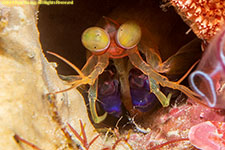 channel clinging crab, Mithrax spinosissimus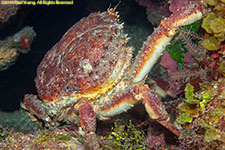 yellowline arrow crab, Stenorhynchus seticornis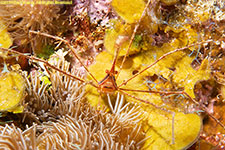 stareye hermit, Dardanus venosus
squat anemone shrimp, Thor amboinensis
Worms:
bearded fireworm, Hermodice carunculata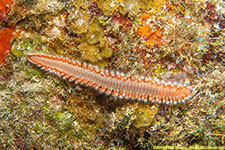 star horseshoe worm, Pomatostegus stellatus
Christmas tree worm, Spirobranchus giganteus
other critters:
social encrusting tunichate, Symplegma viride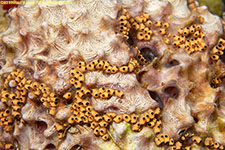 sponge brittle star, Ophiothrix suesonii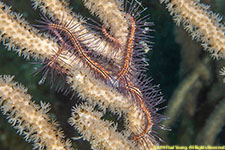 Fish:
angelfish:
queen angelfish, Holacanthus ciliaris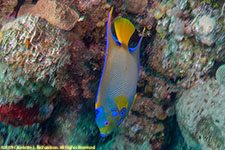 French angelfish, Pomacanthus paru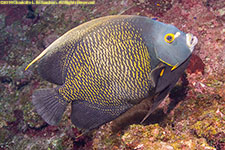 blennies:
arrow blenny, Lucayablennius zingaro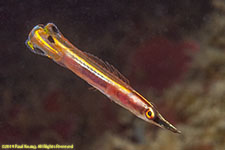 secretary blenny, Acanthemblemaria maria
butterflyfish:
foureye butterflyfish, Chaetodon capistratus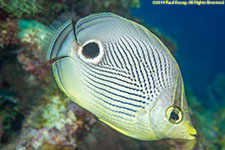 damselfish:
threespot damselfish, Stegastes planifrons (juvenile left, adults, right)
longfin damselfish, Stegastes diencaeus (juvenile)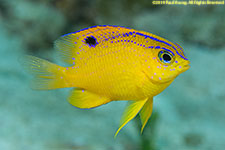 bicolor damselfish, Stegastes partitus
yellowtail damselfish, Microspathodon chrysurus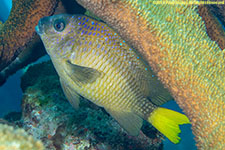 sergeant major, Abudefduf saxatilis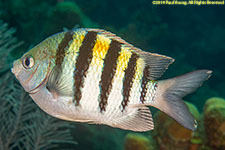 blue chromis, Chromis cyanea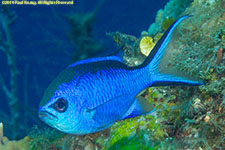 [unidentified]
eels:
spotted moray, Gymnothorax moringa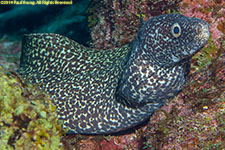 orange moray, Monopenchelys acuta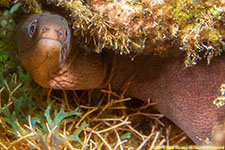 gobies:
bridled goby, Coryphopterus glaucofraenum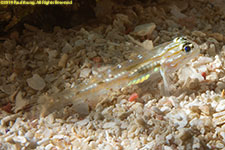 glass goby, Coryphopterus cf. hyalinus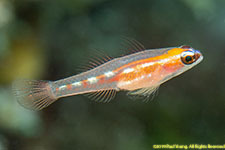 orangesided goby, Gobiosoma dilepis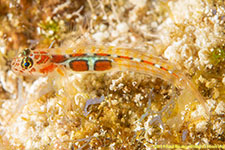 goldspot goby, Gnatholepsis thompsoni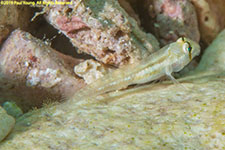 rockcut goby, Gobiosoma grosvenon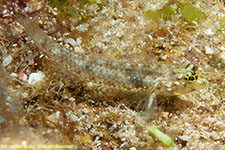 [unidentified]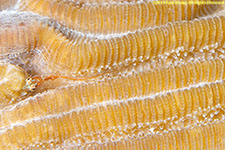 neon goby, Elacatinus oceanops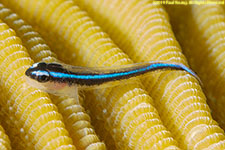 groupers:
rock hind, Epinephelus adscensionis
graysby, Cephalopholis cruentatus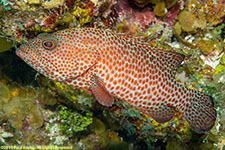 black grouper, Mycteroperca bonaci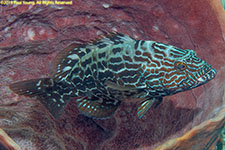 grunts:
French grunt, Haewmulon flavolineatum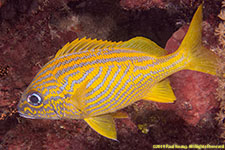 hamlets:
indigo hamlet, Hypoplectrus indigo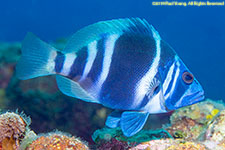 barred hamlet, Hypoplectrus puella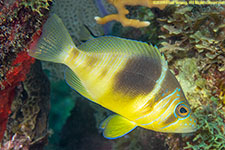 shy hamlet, Hypoplectrus guttavarius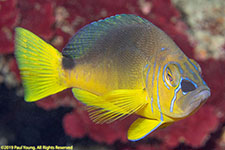 parrotfish:
stoplight parrotfish, Sparisoma viride (initial left, terminal right)
princess parrotfish, Scarus taeniopterus (terminal)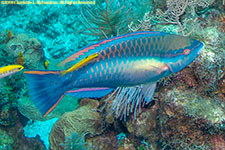 striped parrotfish, Scarus iserti (juveniles left, terminals right)
redband parrotfish, Sparisoma aurofrenatum (initial)
redtail parrotfish, Sparisoma chrysipterum (terminal)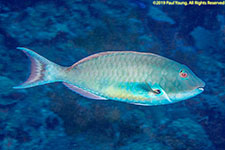 yellowtail parrotfish, Sparisoma rubripinne (initial)
greenblotch parrotfish, Sparisoma atomarium (initial left, terminal right)
puffers:
porcupinefish, Diodon hystrix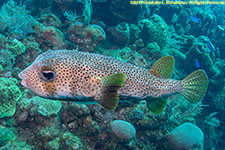 sharpnose puffer, Canthigaster rostrata
snappers:
schoolmaster, Lutjanus apodus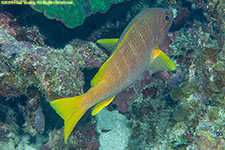 mutton snapper,, Lutjanus analis
squirrelfish:
longspine squirrelfish, Holcentrus rufus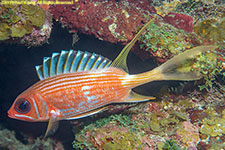 longjaw squirrelfish, Neoniphon marianus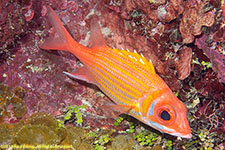 surgeonfish:
ocean surgeonfish, Acanthurus bahianus
blue tang, Acanthurus coeruleus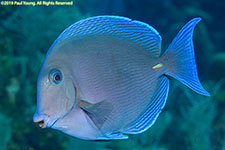 triggerfish:
scrawled filefish, Aluterus scriptus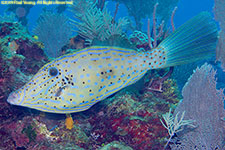 whitespotted filefish, Cantherhines macrocerus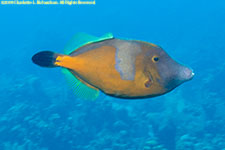 black durgon, Melichthys niger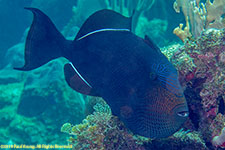 wrasses:
creole wrasse, Clepticus parrae (initial)
yellowhead wrasse, Halichoeres garnoti (juvenile left, intermediate middle, initial right)
bluehead, Thalassoma bifasciatum (juvenile/initial)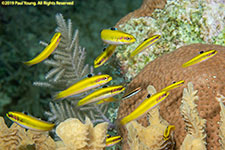 slippery dick, Halichoeres bivittatus (juvenile)
other fish:
sand diver, Synodus intermedius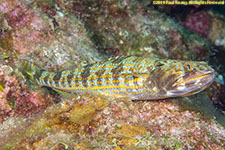 harlequin pipefish, Micrognathus ensenadae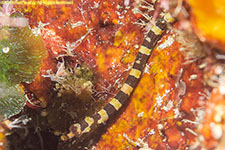 trumpetfish, Aulostomus maculatus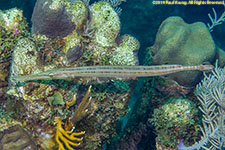 smooth trunkfish, Lactophrys triqueter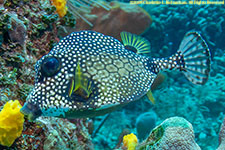 yellow goatfish, Mulloidichthys martinicus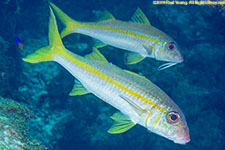 spotted drum, Equetus punctatus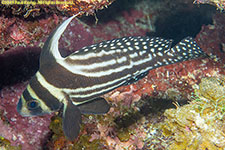 bar jack, Caranx ruber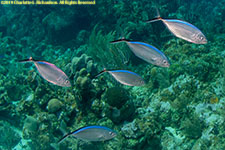 great barracuda, Sphyraena barracuda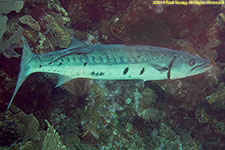 saucereye porgy, Calamus calamus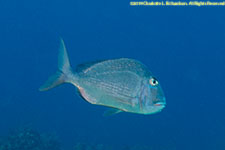 white margate, Haemulon album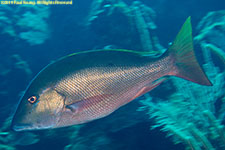 harlequin bass, Serranus tigrinus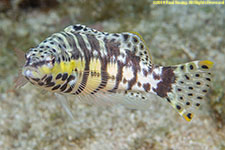 fairy basslet, Gramma loreto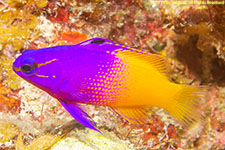 spotted scorpionfish, Scorpaena plumieri
[unidentified]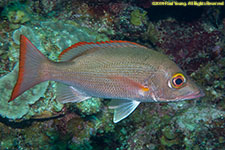 [unidentified]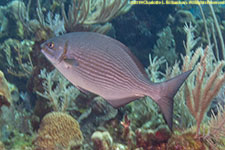 ---
©2019 Mermaid Underwater Photographic. All Rights Reserved.
Contact us at mermaid@underwater.org.
Last modified 14 March 2019