Wisconsin Photo Gallery
We have visited Wisconsin three times.
We attended the EAA Airventure 2010 and 2011, a week-long air show abd fly-in held each summer at Wittman Regional Airport in Oshkosh.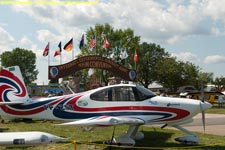 We returned in October, 2023, for a brief vacation. The main reason was for me to fly a hull seaplane, a Lake LA 4-200 Buccaneer.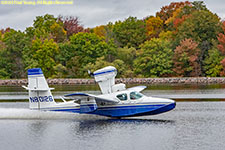 While we were in the area, since we had allowed several extra days for weather contingencies, we explored some of the local sights.
Necedah National Wildlife Refuge was established in 1939. The refuge is located within the Great Central Wisconsin Swamp, the largest wetland bog in the state. It is the northern nesting site for the reintroduction of an eastern United States population of the endangered whooping crane, Grus americana. In 2001 the Whooping Crane Eastern Partnership raised whoopimg crane chicks in the refuge before guiding them to Florida's Chassahowitzka National Wildlife Refuge using ultralight aircraft to teach the birds the migratory route. The reintroduction has been successful. Only two crane species are native to North America, the whooping crane and the sandhill crane, Antigone canadensis.
Sandhill cranes: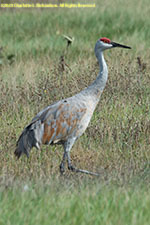 Whooping cranes are the tallest bird native to North America, from 1.2m to 1.6m (4'1" to 5'3") tall, with a swingspan of 2m to 2.3m (6'7" to 7'7").
Glacial Lake Wisconsin existed at the end of the last ice age, approximately 18,000 to 14,000 years ago, in the central part of present-day Wisconsin. It formed when the Laurentide Ice Sheet blocked the Wisconsin River, and extended north to present-day Wisconsin Rapids. Islands in the lake became today's sandstone bluffs of central Wisconsin:
Roche-a-Cri (from the French: "crevice in the rock") has a 300' rock outcropping, the largest of these formations, with native American petroglyphs.
Chickadee Rock is a small formation next to Roche-a-Cri.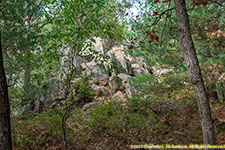 Ship Rock is about 100' high.
Rabbit Rock is also about 100' high.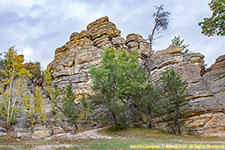 Castle Rock is on the banks of the Wisconsin River between Petenwell Lake and Castle Rock Lake.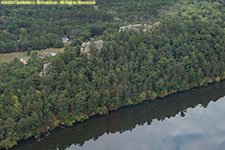 Rib Mountain State Park is near Wausau. The mountain is a narrow ridge of quartzite rising 800' above the relatively flat central Wisconsin plain. The quartzite is metamorphosed sandstone and is much more resistant to erosion than the surrounding rocks. It was used as a lookout point and navigational marker by the Chippewa and early white settlers.
---
©2023 Mermaid Underwater Photographic. All Rights Reserved.
This page sponsored by Mermaid Underwater Photographic. Contact us at mermaid@underwater.org.
Last modified 17 October 2023