Maine
Charlotte spent a week at the Maine Photographic Workshops in the summer of 1998. Here are some of her favorite images:

Paul spent the July 4th week there in 2001. His favorites:
Nubble Light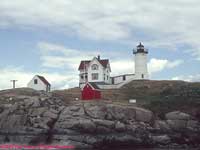 Cape Neddick Lighthouse
©2003, 2012, 2014, 2017, 2018 Mermaid Underwater Photographic. All Rights Reserved.
Contact us at mermaid@underwater.org.
Last modified 15 February 2018